"Derby County forward Darren Bent celebrates his goal at West Brom in the F.A. Third Round." (Credit to DCFC.)

One of the most-historic club competitions in the world continues this weekend, as the English F.A. Cup fourth round kicks off on Friday. 32 teams continue to fight for their place in May's final at Wembley Stadium, while several Cinderella hopefuls look to knock out stern competition.

With plenty of matches to see, I decided to take a look at three intriguing fixtures taking place this weekend in the fourth round. Here are three fixtures that you should definitely keep an eye on.

Derby County (7th in Championship) vs. Leicester City (15th in EPL) -- Friday 19:55 p.m. G.M.T.

Steve Bruce's Rams are in the promotion race for the Premier League, but have eliminated top-flight competition once already during this F.A. Cup competition. They defeated West Bromwich Albion 2-1 in the third round at the Hawthorns. Goals from Darren Bent and Tom Ince, lifted the second-tier side to the fourth round. They are coming off a 3-2 home win over Reading last Saturday in league-play, which should give them momentum. Ince (nine goals, two assists) has been Derby's best player this season, and will be counted on to provide for his team on Friday. Midfielder Will Hughes (two goals, three assists) is another player to watch, while Bent has six goals in all competitions. Defender Richard Keogh predicts a F.A. Cup shock for Leicester as they travel to the sold-out iPro Stadium on Friday.

Leicester have struggled this season in the Premier League, as they are sitting close to the relegation zone. Claudio Ranieri's side defeated Everton in the third round of the F.A. Cup 2-1 away from home. Strikers Jamie Vardy (five goals) and Islam Slimani (six goals) will be counted on for the goals in front of goal, while Demarai Gray and Marc Albrighton will provide the distribution due to Riyad Mahrez's absence at the African Cup of Nations. Defensively, they need to be stronger at the back, and Wes Morgan and Robert Huth can start the rebuild. These two were sensational during Leicester's EPL title last season, but have been a mere image of what they can be. I can definitely see Derby pulling another upset, and knocking out their second consecutive Premier League opponent.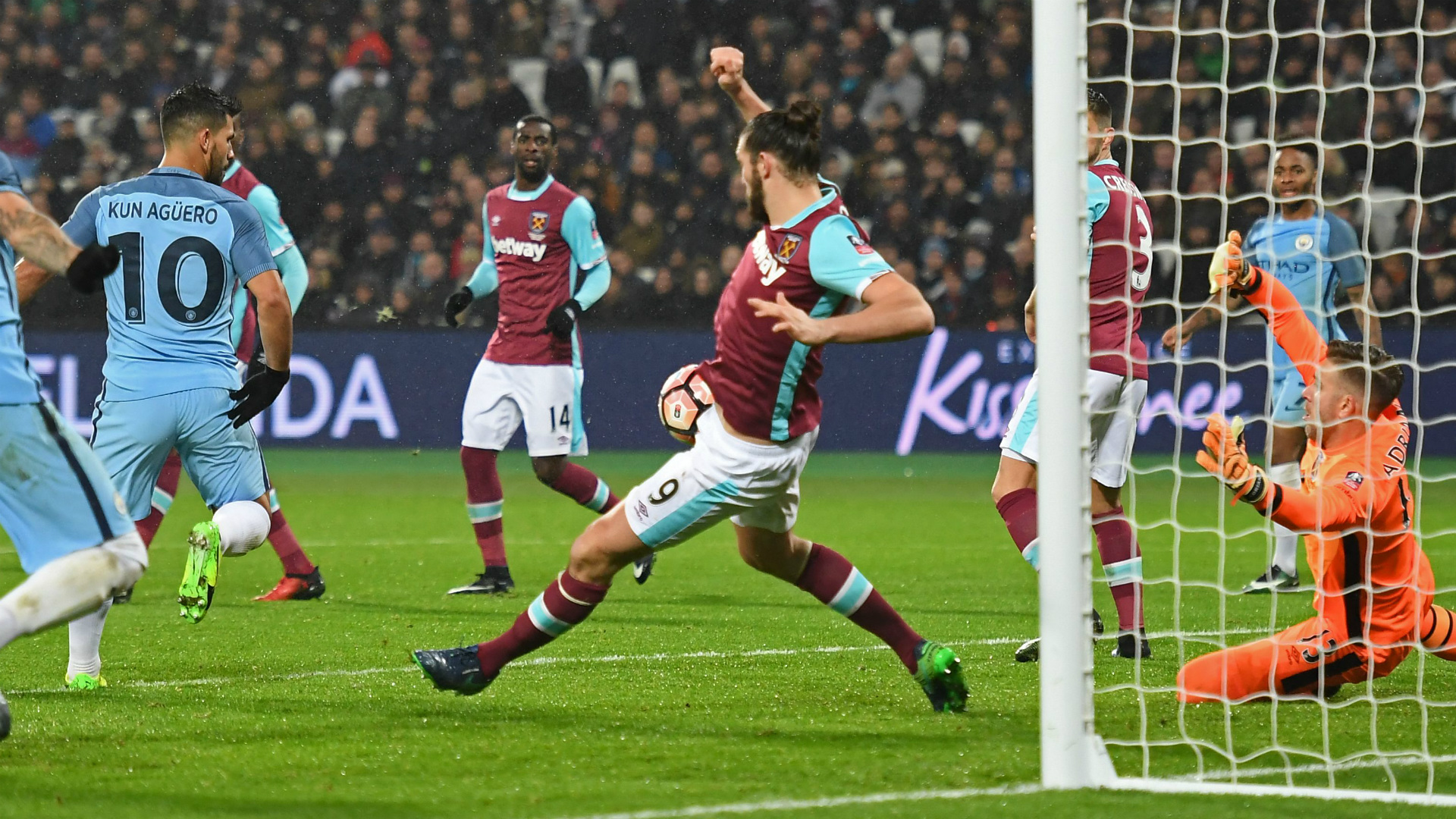 "Action from Manchester City's 5-0 F.A. Cup victory at West Ham United earlier this month." (Credit to Goal.com.)

Crystal Palace (18th in EPL) vs. Manchester City (5th in EPL) -- Saturday 15:00 p.m. G.M.T.

Crystal Palace have struggled to get much going this season in every competition. In league-play, they are in the relegation zone under Sam Allardyce and will need to get back to form fast. They won a third round replay against third tier Bolton Wanderers 2-1 last week to earn a spot in the fourth round. Striker Christian Benteke netted a brace that match, and will be counted on to lead the line on Saturday. Winger Wilfried Zaha should be available due to the Ivory Coast's eliminated in the African Cup of Nations. He provides good pace and distribution down the flanks. Defensively, they need to be stronger at the back, and they need to frustrate their opponent.

Manchester City are coming off a third round 5-0 thumping of West Ham United, and a 2-2 league draw vs. Tottenham last Sunday. Pep Guardiola's side are looking to remain in the league title race, but also advance in this competition. The key will be to score early and often against a struggling Palace side. Striker Sergio Aguero (18 goals in all comps) will likely lead the line, and is always a threat in a number of ways.Midfielders Kevin De Bruyne, Raheem Sterling, and David Silva are all class players and can beat you in a number of ways as well. Defender Vincent Kompany could start against Palace after missing the last eight weeks. Goalkeeper Claudio Bravo has been at the fore-front of criticism this season, but will look to silent his critics with a clean sheet and a win. I can't see Manchester City losing this match, and will expect both sides to put out strong line-ups.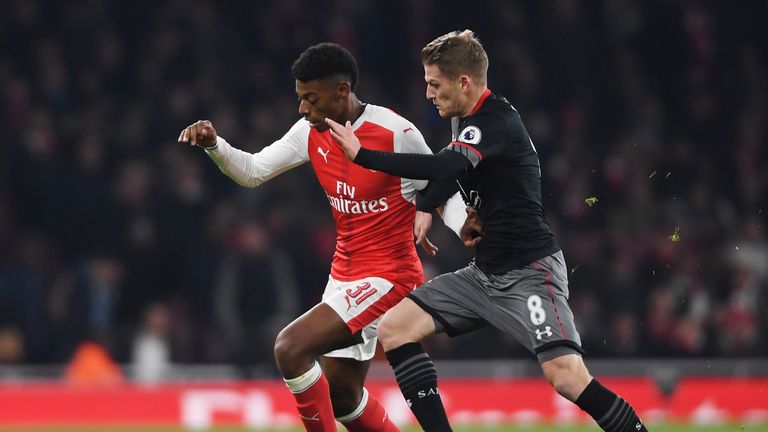 "Arsenal's Jeff Reine-Adelaide battles with Southampton's Steven Davis during a EFL Cup match earlier this season." (Credit to Sky Sports.)


Southampton (11th in EPL) vs. Arsenal (2nd in EPL) -- Saturday 17:30 p.m. G.M.T.

Claude Puel's Saints earned a late 1-0 winner in a third round replay against Norwich City last week to book their spot in the fourth-round. They have been and up-and-down in the league, but are coming off a strong 3-0 win over Leicester City last Sunday. Striker Jay Rodriguez has filled in for the injured Charlie Austin, and has produced some nice goals. Dusan Tadic and Pierre-Emile Hojberg provide the distribution in midfield, and will look to break down Arsenal's back-line. Virgil van Dijk could be back from last weekend's injury, but Maya Yoshida and Jack Stephens could start if the defender cannot go.

Arsenal earned a late 2-1 win vs. Burnley in the league last weekend to jump to second in the standings. They defeated Preston North-End in the third round 2-1, despite going down early. Arsene Wenger has a lot of attacking players at his disposal and we could see a number of them on Saturday. Alexis Sanchez (17 goals in all comps) netted the winner on Sunday, but will miss the F.A. Cup tie. Striker Olivier Giroud (10 goals, four assists) and midfielder Mesut Ozil (nine goals, seven assists) are also available for selection, while Alex Iwobi's stock is rising match-by-match. Laurent Koscielny and Shkodran Mustafi have formed a strong partnership in the back-line and are Wenger's #1 duo for sure. After the Saints eliminated Arsenal from this year's EFL Cup tournament, I see Arsenal paying their opponents back and knocking them out away from home.

Overall, the fourth round of the F.A. Cup should be a dandy and should provide some great matches. Plenty of David vs. Goliath fixtures will be on display and we definitely will see a surprise or two. Be sure to check back to Premier League Preview for all the news, updates, and recap of the F.A. Cup and the Barclays Premier League.

Hope you enjoyed, and make sure to follow @lhenry019 and @PremPreviewMag on Twitter!